Walks and getaways in the Basque Country
This month, we take you on a tour of the Basque Country. From Biarritz to Hendaye, via the inland Basque Country and its typical villages, here's a selection (far from exhaustive) of the most beautiful places to visit during your camping holiday in the Basque Country!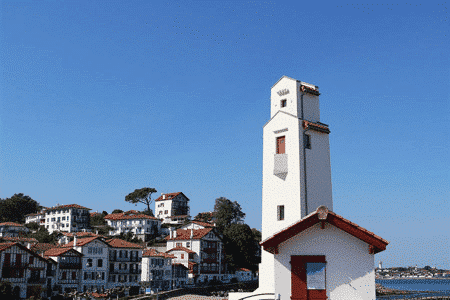 The seaside resorts of the Basque Coast
Just 25 km from the campsite, the Basque coast stretches from Bayonne to Hendaye, a 35 km stretch of coastline featuring long sandy beaches, wild cliffs, small fishing ports and villages with pretty, colorful houses…
The gateway to the Basque Country, Bayonne is a beautiful city of Art and History, with its magnificent cathedral listed as a UNESCO World Heritage site, its old town, its museums and its chocolatiers. Bayonne is also renowned for its ferias, which attract thousands of festival-goers in August, not to mention its famous ham!
Right next door, but in a very different atmosphere, Biarritz is a chic and sporty seaside resort, renowned for its internationally renowned surf spots, its beaches including the famous "Côte des Basques", but also its palaces, beautiful boutiques and casino. Among the destination's must-sees are the Rocher de la Vierge, the Musée de la Mer, the Pointe Saint-Martin lighthouse and the Halles market for gourmets.
Between Biarritz and Bayonne, Anglet will delight surfers and nature lovers alike. The Chiberta forest is an immense playground for discovery, attracting hikers, riders and sports enthusiasts in droves.
After Bidart and Guéthary, charming cliffside villages, we arrive in Saint-Jean-de-Luz. This former fishing port has become the most oceanic resort on the Basque Coast. We love its long sandy beach, charming harbor, colorful traditional houses and narrow streets converging on the impressive Saint-Jean-Baptiste church, considered one of the most beautiful churches in the Basque Country. Continue on to Hendaye, at the gateway to Spain, where you'll find a stunning château blending neo-Gothic and Oriental styles. This is the Château d'Abbadia, built in 1864 by Antoine d'Abbadie, a great French scientist, explorer and geographer, but also a fervent defender of the Basque language and patron of its culture.
Inland Basque villages
Have you decided to stay at our campsite in Espelette? You'll have a front-row seat to discover the small villages of the inland Basque country. Some, such as Ainhoa, Sare and Saint-Jean-Pied-de-Port, are classified as "France's most beautiful villages".
Head first for Aïnhoa. This pretty bastide village, with its traditional white and red half-timbered houses, offers a pleasant green interlude. A little further on is the village of Sare. Renowned for its prehistoric caves, Sare is also the starting point for a fabulous journey through the mountains of the Pyrénées-Atlantiques aboard an authentic cogwheel train. Destination La Rhune, the mythical summit of the Basque Country, at 905 m altitude!
In the south-east, near the Spanish border, Saint-Jean-Pied-de-Port and its citadel are also well worth a visit. Located on the pilgrim route to Santiago de Compostela, the fortified city boasts a rich architectural heritage: the Porte Saint-Jacques, Rue de la Citadelle and its Basque houses, not forgetting the famous "Roman bridge".
Isturitz and Oxocelhaya caves
Take advantage of your camping holiday in the Basque Country to discover the prehistoric caves of Isturitz and Oxocelhaya. Just 30 km from Biper Gorri, this world-famous European prehistoric site covers more than 80,000 years of human occupation.
The Isturitz cave is home to some magnificent rock engravings, including a sculpted pillar considered a true work of art and the only one of its kind in the world.
Below, the Oxocelhaya cave has all the hallmarks of a cave sanctuary. It is adorned with impressive stalactites, stalagmites and other concretions shaped by Nature over thousands of years, as well as paintings and engravings left by early man.
Kakuetta gorge and Holzarte footbridge
Do you love nature, adventure sports and mountain scenery? We're heading for the villages of Larrau and Sainte-Engrâce in the heart of the Basque Country, where there's a hint of Amazonia.
First, the Kakuetta Gorge. This 2 km-long canyon carved out of the mountain is equipped with footbridges and paths. After an hour's walk through unspoilt wilderness, we come to a waterfall that drops some 20 metres before reaching the Grotte du Lac.
Also close to the gorge is the famous "Holzarte footbridge", a 180-metre-high suspended monkey bridge over the Olhadubi Gorge. This is undoubtedly one of the most spectacular natural sites in the Basque Country!