Visit the Basque cake museum in Sare (bonus: we give you the real recipe)
In Sare, there's the Rhune train , the prehistoric caves and…the Musée du gâteau basque! If you want to learn how to bake the world's best cake, you don't need to go any further.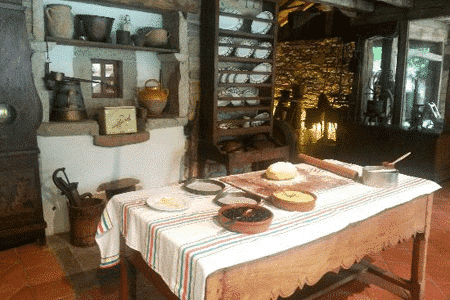 From museum to old-fashioned perfume, in praise of Basque cake
Take advantage of your stay at Camping Biper Gorri in Espelette to visit the Basque cake museum at Sare, near Saint-Jean-de-Luz in the Pyrénées Atlantiques. In this unique museum, housed in an old farmhouse, the Marichular family has assembled hundreds of antique and sometimes unusual objects from the traditional Basque home. An opportunity to delve into the history and daily life of Basques past and present, to discover the secrets of Basque cake-making, and to get your hands dirty!
It's just a short step from theory to practice. After discovering the small museum, visitors are invited to don their aprons for a pastry-making workshop, at the end of which everyone leaves with their own Basque cake! And to top it all off, the tour is hosted by an infectiously cheerful pastry chef, full of humor and love for his country. We laugh a lot, we learn a lot, and we never leave hungry!
At the end of the tour, "pastry apprentices" can enjoy lunch in the park (local dishes: Bayonne ham , homemade piperade, ewe's milk cheese, homemade pastries…) or a drink at the Bodega "Tinka". The museum store also sells all kinds of delicacies: "Euskal Brownie", Basque-style macaroons, cherry jams and, of course, Basque cakes.
Le Musée du Gâteau basque : dép.406 – Maison Haranea, Quartier Lehenbiscay, 64310 Sare (20 minutes from the campsite), Adults: 9€, children: 7€ (4 to -14 years), information and reservations: 06 71 58 06 69, www.legateaubasque.com
What to see and do in Sare in the Basque Country? The little Rhune train, the Ortillopitz house-museum (restored to its 17th-century state), the Sare caves, Saint-Martin church. + info
Recipe for Basque cake (serves 8)
Dough:
350 g flour
3 whole eggs
200 g softened butter
180 g caster sugar
2 tablespoons rum or vanilla liquid
yeast (optional)
cream, prune marmalade or cherry jam (to taste)
Pour the flour into a bowl, make a well and stir in the beaten eggs, softened butter, baking powder and sugar.
Mix the dough. It should be firm and not sticky. If the dough is too soft or sticky, add more flour.
Leave to rest for an hour at room temperature, then divide into two dough pieces. Using a rolling pin, make two identical rolls (4 to 5 mm thick).
Butter and flour a 22cm-diameter springform tin and place the first layer of pastry inside. Top with cream* (cherry jam or prune marmalade are also very good), then cover with the remaining pastry, which acts as a "lid". Solder the edges, pressing firmly with your fingers.
Using a fork, make fine grooves on the top, then brown with egg yolk. Place the cake in an oven heated to 210°C and bake for around 30 minutes.
Allow to cool before serving. Basque cake tastes even better the next day!
*Cream :
200 g sugar
1 whole egg
2 tablespoons flour
½ liter of milk
2 tablespoons rum or vanilla liquid
Using a wooden spatula, combine the sugar, beaten egg and flour. Gradually add the milk, stirring constantly. Cook over low heat for 3 to 4 minutes, stirring well. The cream should thicken. Add the rum at the end of cooking and leave to cool before rolling out the first layer.