In autumn, a strange blue disease threatens the Basque Country
Are you immune to "blue disease", also known as "goshawk sickness" or "palombitis"? This is an incurable endemic pathology that is rife in south-west France, particularly in the Basque region. A disease from which there is never a complete cure, they say. If you stare into the sky for hours on end, you're probably already infected! To find out more, head to Ainhoa, a few kilometers fromEspelette.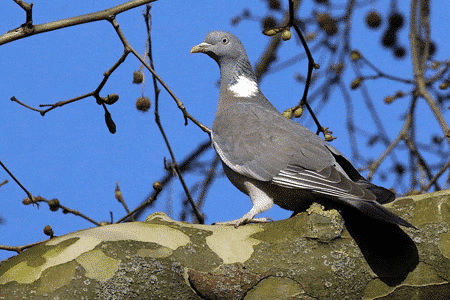 Goshawks return for the blue season
October is the blue month of the pigeon, in the small listed village of Ainhoa, fifteen minutes from our campsite in the Basque Country. The palombe, the blue bird for the inhabitants of the South-West (because of its beautiful blue color), Columba palumbus for the purists, is the other name given to the wood pigeon, the largest of the European pigeons.
In early autumn, goshawks begin their migration from Scandinavia to North Africa. On the way, they stop off in the Basque country, where the Pyrenees are lower than elsewhere.
Since then, the arrival of the mythical blue bird has been a joy for hunters, for whom dove hunting is synonymous with festivities, gastronomy and encounters. To mark the occasion, the village of Ainhoa celebrates the bird-symbol with an annual Palombe festival.
The Dove Festival in Ainhoa
Throughout the day, local producers will be on hand at the market, along with craftspeople who will be delighted to showcase their skills. There will also be plenty of entertainment to punctuate the day, which will be dedicated to the beautiful blue bird. First, the blessing and release of goshawks at the fronton, followed by a special goshawk meal in the village's restaurants. The festivities continue with Basque songs and traditional dances, as well as workshops in cooking, stone carving, glass engraving, Espelette pepper rope making…
>>> see the program for the Festival of the Pigeon in Ainhoa
Dove hunting and pigeon shooting
From October 1 to November 30, dove hunting is a major event awaited all year round by the inhabitants of the South-West, and a real tourist attraction for campers in search of the picturesque. Not so long ago, it was customary to take a vacation in October to go woodpigeon shooting. Others called in sick to work, claiming acute palombitis, the famous "blue disease". It's a testament to the Basques' almost amorous attachment to this age-old hunt. There are several hunting techniques, the most widespread being net hunting. Around the Col de Lizarrieta, south of Sare, hunters spend several years building their "palombière", a hut camouflaged in the bracken that serves as a lookout post. It's also, and above all, a place for sharing, exchange and conviviality between generations and social classes. If you have the opportunity to visit a pigeon farm during your stay in the Basque Country, don't hesitate!
Photo: © Charles J Sharp