Irouléguy wine, beer, cider, sangria… What do we drink in the Basque Country?
The Basque Country can also be discovered over a drink. Wine, beer, patxaran, cider and sangria distill all the finesse and character of the Basque lands. Whether alcoholic or non-alcoholic, here's an overview of the different beverages to sip on during the vacations.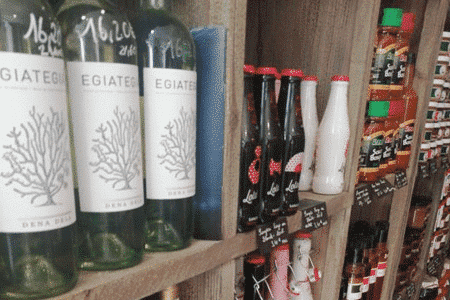 The Basque wines of Irouléguy
If you're a wine lover, you may already have heard of the wines of Irouléguy, named after a small Basque village in Basse-Navarre. This small vineyard in the Basque mountains covers some 230 hectares and produces excellent red, rosé and white wines. In 2020, it was even awarded the "Vignobles & Découvertes" label! Discover the Cave coopérative d'Irouléguy, the appellation's historic winery in Saint-Étienne-de-Baïgorry. Further information: www.cave-irouleguy.com
Basque beers
Blonde, dark, white, red, amber… Basque craft beers come in all colors and flavors. What's the best Basque beer? It's hard to say, since there are over 400 of them! Among the most famous and finely brewed are Belharra (Bayonne), La superbe (Biarritz), Etxeko Bob's Beer (Hasparren), Akerbeltz(Licq-Athérey) and the Hizketa microbrewery(Saint-Pée-sur-Nivelle).
Basque cider
Who said cider was the preserve of Brittany and Normandy? In the Basque country, too, we have some great ciders! The difference is that Basque cider (sagardo, meaning "apple wine") has a higher alcohol content, around 6%. And for those who prefer a non-alcoholic toast, there's apple juice and blueberry juice for kids and adults alike.
Basque sangria
Very fruity and light, Basque sangria is made with red wine from Navarre, oranges, yellow peaches and lemon, with a hint of cinnamon, rosemary and Espelette pepper. Perfect with tapas as an aperitif during your vacation in the Basque Country!
Le Patxaran
Do you know Patxaran? This is a traditional liqueur typical of the Basque country, made by macerating wild sloes in aniseed-flavored alcohol known as "anisette". Legend has it that the monks of Leire Abbey administered this dark-red beverage to the King of Navarre, who was complaining of violent stomach cramps. The effect is immediate, a true miracle! Enjoy chilled as an after-dinner drink, with or without ice.
Euskola, the Basque "coca
The Basque Country also has its own cola! Euskola is made in Bardos, near Bayonne. This 100% made-in-Euskadi soda is less sweet than industrial standards, and much better than the American version (a bit chauvinistic, us Basques 😉 Its mascot: Basajaun, an emblematic character from Basque mythology.
Espelette pepper gazpacho
Very popular in Spain, gazpacho is as refreshing as a glass of Coke in the middle of a heatwave! Excellent, quick and easy to make, this cold tomato soup is packed with vitamins. And in the Basque region, it's made with PDO Espelette pepper. Le Pressoir du Pays Basque, in Bardos, has made a specialty of it!
We remind you that alcohol abuse is dangerous to your health, and recommend that you consume in moderation.