FAMILY HOLIDAYS: 5 original activities for kids in the Basque Country
Pottok rides, walks with hundreds of rabbits, baking workshops, lake and forest walks and swims, giant tree-top zip-lines – the Basque Country is bursting with fun and unusual activities to surprise your children over the vacations. Here are a few ideas for a camping vacation full of life, laughter and excitement!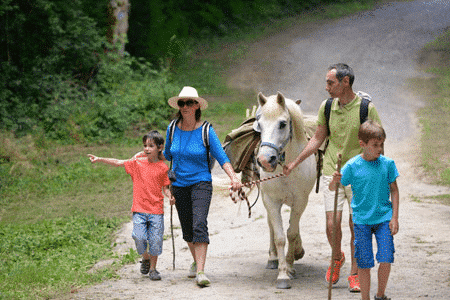 Domaine du Pottok in Espelette
Just a stone's throw from the Biper Gorri campsite, Domaine du Pottok invites you to meet the Pottok, a breed of pony typical of our Basque mountains. On the program: exhibition and discovery trail on the pottok, horseback ride, discovery of farm animals, demonstration of mare milking. Pottok 's milk is used to make soaps, cosmetics and artisanal treats that you'll find in the estate store.
– Le Domaine du Pottok: lieu-dit "Lapitza", 64250 Espelette – Free visits from April to June and from September to October, Wednesdays from 3pm to 6pm. In July and August, Tuesdays and Thursdays from 10 am to 12 pm. Further information: www.potta.fr
The Rabbit Forest at Itxassou
A one-of-a-kind animal park to discover with the little ones! In Itxassou, discover the world of rabbits and guinea pigs and visit Europe's first rabbit conservatory! Different breeds of rabbit rub shoulders withguinea pigs, each as adorable as the next! A short trail through the forest provides an opportunity to learn more about the fauna, flora and avifauna, as well as the history of life on our planet, with beautiful views over the Nive valley and the Pyrenean foothills. Small refreshment stand and picnic area on site.
– La Forêt des Lapins: Chemin d'Agorreta, 64250 Itxassou, adult rate (from 11 years) / €7.00, junior rate (from 5 to 10 years) / €4.00, child rate (from 2 to 4 years) / €1.00. Further information: www.laforetdeslapins.net
The Basque Cake Museum in Sare
It's not always easy to find fun and original activities to keep children occupied. So why not try a Basque cooking class? Head for Sare and the Musée du gâteau basque. A chance for the whole family to learn a little about the history of the Basque country, and above all the steps involved in making the famous cake. Of course, you'll leave with your own Basque cake under your arm. A good time to share with your apprentice pastry chefs, especially as the chef is a real enthusiast with a great sense of humor.
– Le Musée du Gâteau basque, Départementale 406, Maison Haranea, Quartier Lehenbiscay, 64310 Sare, workshop led by a pastry chef, adult price/9 €, children/7 €, information and reservations: 06 71 58 06 69.
Ttiki Leku Park in Souraïde
On the outskirts of the village of Souraïde, near Espelette, spend an enjoyable family day at Ttiki Leku! Nestling in a forest setting, this family park is designed for children up to 12 years of age. There's plenty of outdoor fun for all ages: aquabully (mini-cruise on the water for toddlers), parcabout (large net suspended like trampolines in the trees), inflatables, pedal go-karts, mini-golf, and much more. All in a quiet, wooded setting, with plenty of space and lovely picnic spots in the forest.
– Le parc Ttiki Leku: Chemin d'Otsantza, 64250 Souraïde, open from Easter to All Saints' Day, price 3 to 60 years / €8.50, over 60 years / €7, free for children under 3. Further information: www.parc-jeux-paysbasque.com/
Tyrolienne Park in Saint-Pée-sur-Nivelle
Are your children more of the "daredevil" and "intrepid" type? Treat yourself to a thrill on the giant zip line at Saint Pée sur Nivelle lake, the longest in the south-west. Over 600 meters of cable and a descent at almost 90 km/h over the water and through a magnificent forest of centuries-old oaks. But that's not all! The 12-hectare site is also home to a leisure park, a real paradise for families: sandy beach (supervised swimming in July and August), waterslides, pedalos, canoes, stand-up paddle, fishing, picnic area and walks around the lake (3 km).
– Address: 9 allée Charles Cami, 64310 St-Pée-sur-Nivelle. The zip-line activity is accessible to children aged 7/8 accompanied by an adult on the course, and accessible alone from age 10.
photo© O. Robinet