The Pottok fair in Espelette
What's the event that sets the small village ofEspelette abuzz every January? This is the Pottok Fair, a two-day equine extravaganza that brings together all Pottok lovers, breeders, buyers and other enthusiasts. See you on Saturday, January 26 and Sunday, January 27, 2019 around the fronton and the streets ofEspelette!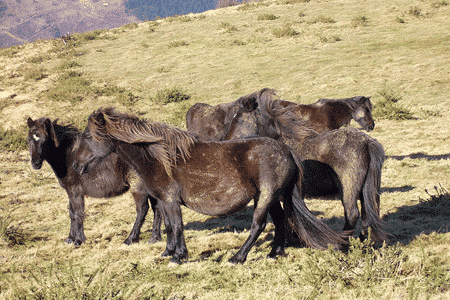 Pottok, kézako?
The emblematic horse of the Basque country, the pottok, pronounced "pottiok" and meaning "little horse" in Basque, is an ancient breed of pony that lives in semi-liberty in the Pyrenean mountains. Their appearance is reminiscent of the cave paintings in the Isturitz and Oxocelhaya caves.
Designed for farm work, this sturdy little horse was also used for centuries in the region's coal mines. It now lives peacefully in the Rhune, Artzamendi, Baïgura and Ursuya ranges.
Ask for the program!
On Saturday morning, the equine fair kicks off with a major Pottok filly competition in the Place du Jeu de Paume. The following day, all day long, the covered market will host an exhibition of draft horses and a major competition organized by the Syndicat des Éleveurs. From 5 p.m. onwards, Basque pelota will also be on show at the Doxpi trinquet, with a fine lesson in bare-handed pelota in the company of exceptional players. These two days are also an opportunity to see the very best in agricultural equipment, taste the local gastronomy in allEspelette's restaurants, enjoy the fairground entertainment, and not forget the pottok baptisms for children and the carriage rides for the whole family. Come one, come all!
Consult the program of the Pottok fair in Espelette
photo : © Antxon Gomez