The Basque Country, 'rugby land' par excellence
Rugby has long been part of the DNA of the Basque Country . At the campsite, we have a great oval ball enthusiast who was keen to tell you all about it. It's Éric Albino, manager of the campsite, partner of the Cambo-les-Bains Club and Biarritz Olympique.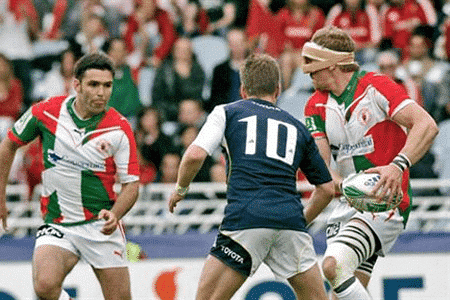 Why is rugby so popular in the Basque Country?
Indissociable from the South-West, rugby, like Basque pelota, Landes racing and surfing, is intimately linked to the Basque Country. It's a unique sporting and cultural heritage, an important part of our identity that conveys the values of solidarity, courage and conviviality. And for good reason: rugby combines the popular traits of ball games like pelota, physical strength like Basque strength games , and the spirit of festivity and camaraderie. No wonder rugby is so popular in the Basque Country!
The Basque Country and rugby, a long history!
Rugby was introduced to France in the early 1870s by the British. Very quickly, this new sporting discipline, described as "a sport for thugs played by gentlemen", became a real hit with the French. First in Normandy, then in the South-West and the Basque country. The first team was created in Bayonne in 1897. Founded by a group of high school students, it was named "Les Montagnards". In the early 20th century, titles won by Aviron Bayonnais and Biarritz Olympique put the Basque country firmly on the map of French rugby. In the 1960s, the oval ball was deeply rooted in popular culture and the rural environment. Among other things, Basque players find a certain ruggedness and rusticity that are not foreign to them.
The 1970s and 80s marked the golden age of Basque rugby, with the creation of numerous clubs. On October 30, 1990, he was consecrated. The Côte Basque-Landes committee's selection manages to beat the All Blacks in Bayonne!!!!
Another milestone in the history of Basque rugby: October 14, 2006. Nearly 80,000 spectators attended the match between Stade français and Biarritz olympique at the Stade de France. A record attendance for a sporting event in France! If you're interested in rugby and want to find out more, don't hesitate to ask Eric during your stay at the campsite. He's inexhaustible on the subject!
photo : © Argia.eus