BASQUE TRADITIONS: everything you need to know to play, dance and sing like a true Basque!
The Basque language, pelota, singing, dancing, sports, village festivals, gastronomy… Basque traditions are so rich and numerous that it would be impossible to cover them all in a single article. Here's an overview of some of the most popular traditions you'll be able to discover on your camping holiday in the Basque Country!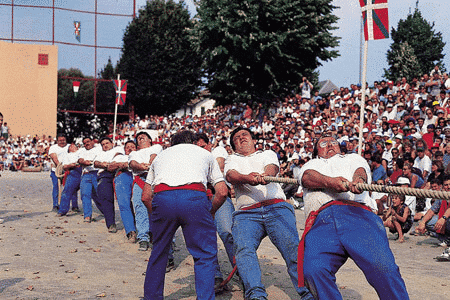 Force Basque games
Games of strength and skill are deeply rooted in Basque culture. Always an impressive spectacle, Basque strength events are as numerous as they are varied. Their origins lie in the agricultural activities and daily farm chores that the Basques carried out before the mechanization of agriculture. As the Basques like to challenge each other, this tradition has evolved into a competition in which everyone asserts their strength, power and resistance. Emblematic events include tug-of-war, stone, cart and anvil lifting, straw lifting and throwing, sack races, can carrying, axe cutting and cob gathering… And there are many more that you can experience while camping in the Pyrénées-Atlantiques!
Basque pelota
Derived from jeu de paume, to which the Basques made a few modifications, Basque pelota encompasses a number of games and specialities. Pelota can be played bare-handed, with a chistera (a wicker basket held in place by a leather glove) or with a pala (a kind of wooden racket). The aim of the game? Pelotaris (pelota players) pass the pelota (ball) back and forth, either face-to-face or by hitting a wall called the frontis. On the fly or after a rebound, the pelota must fall back onto the playing area known as the cancha. The point ends when a team commits a foul or fails to rebound the ball before the second rebound. During your stay with us, you'll have plenty of opportunities to watch a pelota match on the Espelette village fronton!
The Basque song
For over 1,200 years, singing has been an integral part of Basque culture… Beautiful and moving, Basque songs are a collective, popular and traditionally masculine practice whose origins date back to the Middle Ages. They are sung everywhere: on stage, in village squares, in churches… During your Basque vacation, you'll definitely want to attend a male choir concert. It's sure to give you goose bumps and bring tears to your eyes! The most famous choirs in the Basque Country are Oldarra and Adixkideak. Their reputation extends far beyond the borders of the South-West region, and even extends internationally!
Photo: © Ph.Laplace