Geocaching in the Basque Country
Why not take advantage of your camping vacation in the Basque Country to try your hand at Geocaching! An opportunity to discover the region in a fun and original way. Find out more about this fun, family-friendly outdoor activity, which is becoming increasingly popular in the Pyrénées-Atlantiques!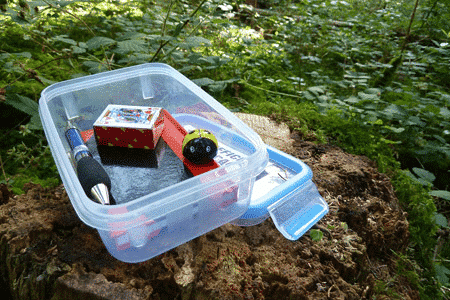 A new-generation treasure hunt
Do you like hiking, treasure hunts and orienteering? Then you'll love geocaching! How does it work? Open to all, and completely free of charge, geocaching involves finding boxes hidden by other players, using GPS coordinates. You'll need a smartphone or a hiking GPS.
Hidden away in the countryside or in urban areas, these boxes, known as "caches" or "geocaches", contain small trinkets to be exchanged (toys, thimbles, foreign coins, pins, etc.). Open the box, pick up an object, drop it off, then leave your impressions by signing the logbook… But be as discreet as possible so as not to arouse the suspicions of Muggles unfamiliar with geocaching!
Awaken your inner adventurer!
Sometimes you'll have to solve puzzles and find clues as you venture off the beaten track. Crapaholing in the mountains, climbing embankments, digging in bushes, lifting stones… With the family and the kids, it's a chance to discover our natural and cultural heritage in an original way, and to learn while having fun!
Where can you go geocaching in the Basque Country?
Once you've got the hang of it, geocaching is so addictive that you'll never want to give it up. And just as well, since the Basque region boasts over 500 caches! Where? All around you, in the most mundane places as well as the most remote.
In Espelette, a stone's throw from our Biper Gorri campsite, we've already spotted several of them, patiently awaiting their discoverer(s)! On the heights of Ainhoa, we heard of a cache on the summit of Mondarrain, at 749 m altitude, near a stone cross erected on rocks… Easier to access, the Bergerie hill in Cambo-les-Bains is also home to its own little treasure. But that's all we have to say…
For those wishing to try their hand at geocaching in the Basque Country, all caches are geolocated on www.geocaching.com and the dedicated mobile app. Even better, you can download the Tèrra Aventura app (the official app for Geocaching in the Nouvelle-Aquitaine region) and discover three amazing routes on the Basque Coast, in Anglet, Bayonne and Bidart. Treasure hunters, to your GPS!