Christmas in the Basque Country with Olentzero
He's dirty, rude, a glutton and a drunk, but he'll still come and hand out sweets and treats to the children, right under Santa's nose! In the Basque Country, as Christmas approaches, the Olentzero descends from the mountain to bring warmth and light into the home. Discover it!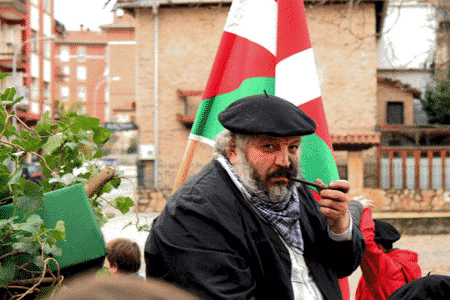 Olentzero, a mythical figure from the Basque Country
The coalman is a character from Basque mythology much older than the Santa Claus invented by Coca-Cola. According to tradition, he lives and works in the mountains all year round, but appears on Christmas Eve to distribute logs to the poor so that no one suffers from the cold.
Originating in the Bidasoa valley in Navarre, the myth of Olentzero – the name given to the Christmas season – has been passed down through the ages, giving rise to numerous interpretations. Today, the coalman is eagerly awaited by children at Christmas, but it wasn't always so. In the past, it was used to scare children. "Watch out, if you don't behave, the coalman will come and get you!" The coalman, with his soot-stained face, shaggy beard and patched clothes! Wearing a black beret, he smokes a pipe and holds an axe or sickle. It's true that, at first glance, he doesn't inspire confidence. And to make matters worse, he's said to be dumb as a post, rude, a glutton and a drunkard. But one thing's for sure: he's got his heart in the right place!
In December, Olentzero descends from the mountains on his donkey or pottok (a small Basque wild horse) and parades through the streets of towns and villages, where he receives a hero's welcome. Everywhere in the Basque Country, from Bayonne to Hendaye and Itxassou, children sing and celebrate him just like Santa Claus.
Back to basics
Reviving a tradition thought to be on the verge of extinction, Olentzero has conquered a large part of the Basque Country. He'd almost overshadow Santa Claus! But the real reason why the coalman comes down from his mountain is to herald the winter solstice (December 21 or 22), which marks the rebirth of the sun and the return of light. In the Middle Ages, the Church took a dim view of everything it considered pagan, and the Olentzero became a messenger of the birth of Jesus!
photo © aiaraldea.com