Book your campsite for the festivities in Pamplona!
Between Spain and the Basque Country, Pamplona's festivities are the third biggest in the world after Rio's Carnival and Munich's Oktoberfest. Renowned for their festive atmosphere and traditional bull runs through the streets of the old town, Pamplona's férias (or San Fermín festivals) take place every year from July 6 to 14.
It's not too late to book your 4-star campsite in the Basque Country. Bus departures are scheduled from Espelette, so make the most of it!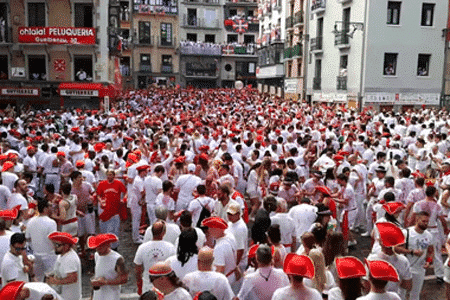 Ask for the Pamplona festival program!
During the nine days of the festival, the Navarrese capital welcomes almost a million festayres, making the Férias de San Fermín the third largest festival in the world after the Rio Carnival and Munich's Oktoberfest.
At the stroke of midday on July 6, thousands of people dressed in red and white converged on the Place de l'Hôtel de Ville. It's the Chupinazo, the official opening of the Pamplona festivities, with firecrackers and rockets. As soon as the fateful phrase "Pamploneses, Viva San Fermín, Gora San Fermín" is uttered, the festivities can begin. Nine days and nights of Spanish féria follow, with a succession of parades, processions, street shows, peñas and bandas, popular balls, concerts, bullfights, encierros, funfairs and fireworks… Discover Pamplona's festival program now!
Navarre's San Fermin festivities end at midnight on July 14. By candlelight, the crowd gather in the town hall square and sing "Pobre de mí" (Poor of me), bidding farewell to the festivities and looking forward to seeing you next year.
The Encierros de Toros: a unique race against bulls!
The highlight of Pamplona's festivities is the encierro, the spectacular bull run that takes place every morning with the toros that will fight in Pamplona's bullring in the afternoon.
Starting at 8am, six fighting bulls are let loose in the streets of the old town, between the Santo Domingo corral and the bullring. To the cheers of the crowd, hundreds of daredevils run in front of the mastodons' horns in a crazy race that lasts no more than 3 minutes. Short, but intense!
How do I get to the Pamplona Fiestas from the campsite? Take the bus!
If you're staying at our campsite in Espelette, the best way to enjoy the Fêtes de Pamplona with friends is by bus. Don't even think about driving there, as it's virtually impossible to find a parking space. From Espelette, for around 15 euros, the "Le Basque Bondissant" coach company offers two daily morning and evening departures to Pamplona.
Departure from "Mendi Alde Bourg" bus stop (2 km from campsite)
Travel time Espelette—-> Pamplona: approx. 2h.
Online booking: www.basque-bondissant.com