Well-being camping: the Cambo-les-Bains spa in the Basque Country
In the heart of the Basque Country, just 7 km from our campsite, Cambo-les-Bains is a warm, family-friendly spa town renowned for the curative virtues of its waters, its exceptional microclimate and the purity of its air. Ideal for combining care and discovery during your camping holiday in the Pyrénées-Atlantiques.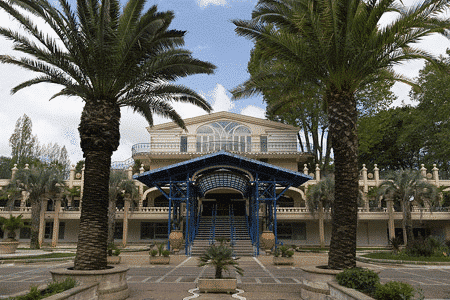 The secret of Cambo-les-Bains spring water?
The Basque Country's only spa owes its renown to its privileged location between the Atlantic Ocean and the foothills of the Pyrenees, its mild, sunny microclimate, its pure, richly oxygenated air, but above all to the beneficial properties of its thermal waters: one sulfurous, the other ferruginous.
Rich in sulfur, copper and zinc, as well as sulfides and sulfates, the waters of Cambo-les-Bains are also rich in calcium and magnesium. The water's emergence temperature (22°C) exerts an analgesic and anti-inflammatory action on rheumatic pains and respiratory tract ailments in particular.
Water that's good for you!
Renowned since antiquity, Cambo's thermal waters were known to the Romans for their relaxing and antiseptic properties.
At the beginning of the 18th century, the small Basque spa was home to such famous names as Queen Marie-Anne de Neubourg of Spain, and later Napoleon I, Napoleon III and Edmond Rostand. The latter, who came to Cambo for treatment, built the "Villa Arnaga", a magnificent neo-Basque residence-museum that's a must-see. The old "Bas-Cambo" district, with its traditional houses, and the "Ville Haute", with its pediment and 16th-century church, are also well worth a visit. And if you're a bit of a gourmand, you're bound to make a detour to the Musée du Chocolat Puyodebat…
But back to our thermal water. In the past, Basques traditionally drank Cambo water on the eve of St. John's Day to ward off illness, arthritis and rheumatism for the whole year ahead. Today, with an average annual attendance of over 12,000, Cambo-les-Bains boasts the title of leading spa resort in the Pyrénées-Atlantiques region, ahead of Biarritz, Salies-de-Béarn, Eaux-Bonnes and Hendaye.
A holiday to restore well-being and vitality!
Renovated in an Art Deco style in the heart of a magnificent landscaped park of some 15 hectares between the Pyrenees and the Atlantic Ocean, the Cambo-les-Bains thermal spa offers targeted care for rheumatology (rheumatism, osteoarthritis, sciatica, osteoporosis, fibromyalgia) and respiratory treatment (allergies, asthma, ear infections, rhinitis, sinusitis, recurrent bronchitis…).
In addition to 5,000 m² of treatment areas with pools, baths, massage cabins and relaxation rooms, the Cambo-les-Bains thermal baths specialize in poultices and thermal mud baths (kaolin + thermal water). Once immersed, the patient feels as light as a feather. The wide range of treatments is complemented by numerous sports and relaxation activities and health workshops.
With Biper Gorri: 10% discount on your spa holiday in Cambo-les-Bains
Are you looking for a cheap campsite close to the Cambo-les-Bains thermal baths for your spa treatment or balneotherapy holiday in the Basque Country? If you book your accommodation in the off-season, from April to June and September to November, we'll give you a 10% discount on your stay! Discover our mobile home rentals near Cambo-les-Bains (15 minutes by car), our chalets with terrace, and our fully-equipped canvas bungalows. You'll find all the peace and comfort you need for a pleasant camping holiday in the Pyrénées-Atlantiques!