WATER LEISURE: Fishing and Sailing in the Basque Country
WATER LEISURE: Fishing and Sailing in the Basque Country
In the Pyrénées-Atlantiques region, the Basque coast is the perfect destination for your favorite water sports: seaside fishing and sailing! Make the most of your camping holiday to indulge your two passions and multiply your moments of relaxation and escape.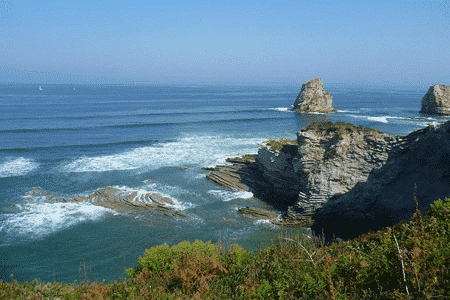 Where to fish by the sea in the Basque Country?
When you're camping in the Basque Country, you can enjoy surfcasting or rockfishing on the Corniche Basque, the coastal path between Hendaye and Saint-Jean-de-Luz. There are hundreds of fishing spots for catching fish.
One of the most popular spots for Basque seaside fishermen, the port of St Jean de Luz is just 25 km from our campsite. The specimen fish caught here are quite varied: sea breams, sars, mullets, eels, sea bass, oblades, saups and even rays. Also, it's not unusual to see beautiful bass hunting just a few metres away. A real pleasure!
We also recommend a visit to the horse dam. Some of our campers fought hard to reel in large king bream weighing in at around 3.5 kg. Calling all enthusiasts!
In Hendaye, 40 km from the campsite, it's also great fun to tease the fish: sars, sea bass, sea bream and olds in particular. If you head to the end of Hendaye beach, near the famous "Rochers Jumeaux", you won't be disappointed!
Without straying far from the campsite, here are some other spots that should delight enthusiasts: the Guéthary breakwater, the beaches of Ilbarritz and Milady in Biarritz, the Plage du Centre in Bidart or the Socoa jetty in Ciboure…
And if you've got your sea legs, make the most of your camping holiday in the Basque country to discover sea fishing, alone or accompanied. Boats take you out to sea, close to tuna and small sharks. Departure from the ports of Anglet, Hendaye and Saint-Jean-de-Luz!
Sailing on the Basque coast
Your camping vacation in the Pyrénées-Atlantiques will also be an opportunity to discover the different aspects of sailing on a sailboat, a cruising catamaran or a dinghy suitable for young children.
The Basque coast is a fantastic playground for recreational sailing enthusiasts. From the Hendaye marina, the Brise Lames harbor in Anglet or the Socoa harbor in Ciboure, you can sail on the bay of Saint-Jean-de-Luz, but also along the Spanish coast, off San Sebastian, Orio, Getaria and Zumaia… Escape guaranteed!
If you're not yet an outstanding sailor, the many yacht clubs, sailing schools and nautical centers in the Basque Country will help you to become one: sea trips, discovery outings, introductory or advanced courses… anything is possible!