The Kakuetta Gorge, in the heart of the Basque mountains
After the Holzarte footbridge, today we discover the Gorges de Kakuetta, between Sainte-Engrâce and Larrau, in the heart of the Basque Pyrenees. A remarkable natural site, wild and spectacular, promising great moments of escape and emotion! Discovery.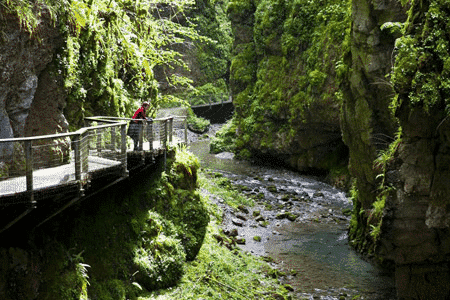 A jewel in the Basque Country's natural heritage
Take advantage of your camping holiday in the Basque Country to discover the Gorges de Kakuetta, in Sainte-Engrâce, in the Haute-Soule mountains. Famous for its 11th-century Romanesque church, this small Basque village is also famous for its canyon, lake and 20-meter-high waterfall.
Discovered in 1906 by Edouard-Alfred Martel, the founder of modern speleology, the Gorges de Kakuetta offer nature lovers one of the most beautiful wild landscapes in Europe. Opened to visitors in 1966, the landscaped trail allows walkers to fully appreciate the beauty of the site.
From canyon to waterfall… from the ends of the earth
The hike starts from the Gorges parking lot, towards the Pont d'Enfer. The route follows the same path each way. Tickets must be collected from the "La Cascade" bar beforehand. Once you've got the sesame, you follow the river into the canyon, which stretches for almost two kilometers.
From one end of the route to the other, footbridges run along the vertiginous canyon walls, reaching heights of up to 350 m in places, where griffon vultures come to rest. The lush vegetation, high humidity and particularly rich flora and fauna are reminiscent of the Amazon jungle. Further on, a suspended balcony allows walkers to admire the lake, renowned for its turquoise waters.
After an hour's walk in the bowels of the mountain, we arrive at the famous waterfall, wild and spectacular, which falls some 20 metres. There's even access from behind the waterfalls, offering an unparalleled view of the canyon.
The walk ends at the Kakuetta lake cave, with its vault lined with gigantic stalactites and stalagmites. End of the tour and return by the same route as the outward journey!
PRACTICE
Les Gorges de Kakuetta: Route départementale 113, 64560 Sainte-Engrâce
Open from March 15 to November 15
Distance: 3.5 km (approx. 2h round trip)
Prices: 6 € / adult (+ 16 years), 4.50 € / child (7 to 16 years), free for children under 7, Tickets on sale at La Cascade bar, at the entrance to the site.
Further information: www.sainte-engrace.com
A few tips before you leave
Plan to arrive early in the morning (around 9:30 a.m.), as it gets very crowded from 11:00 onwards.
Make sure you're equipped with good walking shoes: the ambient humidity of almost 90%, the steep terrain and abundant vegetation make the ground very slippery.
Helmets are available for visitors at the site entrance.
Dogs are welcome on a leash.