Isturitz and Oxocelhaya caves
Published on: 31/10/2019
Today, we're taking you to the Arberoue valley, to visit the Isturitz and Oxocelhaya caves in the heart of the Basque Country. An astonishing journey into the bowels of the Earth, where an extraordinary atmosphere reigns. Discover it!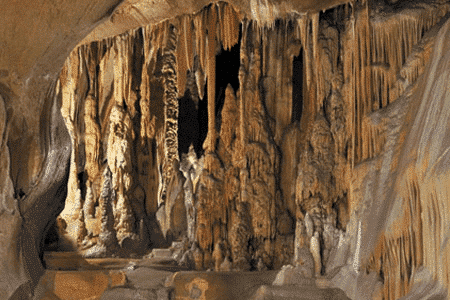 Ornate caves on Gaztelu hill
Do you like to discover unusual places? You'll be thrilled to explore a prehistoric cave in the Basque Country! In Saint-Martin-d'Arberoue, 30 km from Le Biper Gorri campsite, the hill of Gaztelu is home to the Isturitz and Oxocelhaya caves, considered to be one of Europe's leading centres of prehistory and cave art.
Famous the world over, the Isturitz and Oxocelhaya caves form a 600-metre-long complex of underground galleries interspersed with rooms decorated with magnificent concretions: stalactites, stalagmites, columns and other draperies chiselled into the rock over the millennia.
To complete the visit, a small museum presents a collection of Neolithic objects discovered during archaeological digs. It's also an opportunity to learn more about the geological history and formation of caves and concretions.
The Isturitz cave, an emblematic prehistoric site
World-renowned for its archaeological wealth, the Isturitz cave is one of the few prehistoric sites in Europe to combine habitat, furniture and cave art. The famous engraved pillar in the Great Hall is undoubtedly the centerpiece of the Isturitz cave. Engraved on the various panels are reindeer, horses, deer, mammoths, aurochs, birds and fish… That was 17,000 years ago!
In the 1920s, various excavation campaigns brought to light a prodigious archaeological complex spanning more than 80,000 years of human occupation. More than 10,000 prehistoric objects, some of them unique in the world, have been discovered (bison figurines on sandstone plates, a Gravetian flute, decorated bone blades, a reindeer antler thruster…) Reference artifacts, these treasures are today piously guarded at the Musée d'Archéologie Nationale de Saint-Germain-en-Laye and at the Maison de la Dame de Brassempouy in the Landes region.
The Oxocelhaya cave sanctuary
A geological wonder of the Basque Country, the Oxocelhaya cave is renowned for its rich decoration. The descent plunges visitors into an ever more enchanting setting, where nature's most beautiful works are carefully preserved and skilfully highlighted: stalagmites, columns, draperies and stalactites rival each other in beauty and mystery.
The Oxocelhaya cave is also a cave sanctuary where man has flourished since the Paleolithic period, through cave art. Here, visitors discover a moving prehistoric bestiary of horses and bison, drawn or engraved on the walls.
Themed tours
Prehistory & Art: an exceptional visit to the G. Laplace Cave Art Gallery – from March to November, every Sunday from 10:30 am to 12:30 pm.
Paleontology: meet extinct animals such as the mammoth, the cave bear and the wolverine…
Cro-Mignons visit: children aged 4 to 8 explore the underground environment and discover prehistory in a fun and educational way.
Practical info: guided tour from mid-March to mid-November, 10 am to 6 pm; prices: €11/adult; €4.50/children, free for children under 7; further information: www.grottes-isturitz.com