5 good reasons to come to the Saint-Jean-de-Luz International Film Festival
From October 2 to 8, 2023, Saint-Jean-de-Luz(Pyrénées-Atlantiques, France) hosts the International Film Festival. Screenings, previews, meetings with actors… Here are 5 good reasons to visit.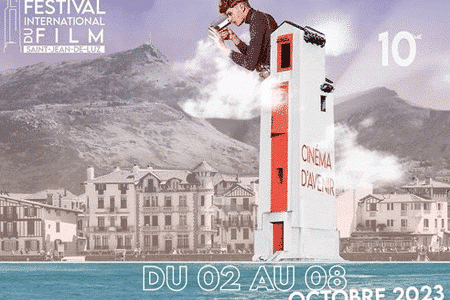 The festival celebrates its 10th anniversary
A not-to-be-missed event in Saint-Jean-de-Luz, the international film festival has enjoyed growing success since its inception. For a week, the seventh art mingles with the city. Nearly 7,000 spectators are expected over 5 days. This tenth edition promises to be a promising one, packed with events for film buffs and the general public alike.
20 films screened, including ten features in competition
The Saint-Jean-de-Luz International Film Festival presents new works, films and filmmakers to showcase and reveal new talent to the general public. For film lovers and enthusiasts, it's a chance to see films you wouldn't see anywhere else. But it's also, and above all, a competition!
Each year, the festival focuses on 10 international feature-length fiction films. The jury will award five prizes to the films in competition: Original Score, Best Actress, Best Director and the Grand Prix.
2023: a prestigious guest to chair the jury…
The jury for the 10th edition of the Saint-Jean-de-Luz International Film Festival is chaired this year by Agnès Jaoui. French cinema's most césarized woman succeeds such great names as Xavier Beauvois, Josiane Balasko, Cédric Klapisch, Xavier Legrand and Géraldine Pailhas.
Encounters between filmmakers, professionals and audiences
Between screenings, the festival is punctuated by numerous events, including exchanges with film crews, meetings with filmmakers, directors and actors, and workshops and masterclasses on cinema professions. For those interested, it's also possible to attend the public deliberations of the jury of the Syndicat français de la Critique de Cinéma, which will award its prize for the best film.
Spotlight on cinema in Saint-Jean-de-Luz!
Located in the heart of the city, Cinéma Le Sélect rolls out its red carpet all year round. This cinema complex has 5 spacious, comfortable rooms. The program is no less enticing, with films for the general public, national releases, previews, retrospectives, operas, ballets, a ciné-café of films d'auteur in VO… 4 screenings a day! Timetables are available at www.cineluz.fr.
Practical information :
When: October 2 to 8, 2023
Where: Cinéma Le Sélect, 29 Boulevard Victor Hugo, 64500 Saint-Jean-de-Luz
Price: €6.50 per screening, concessions : 4.50 €, 10-film pass at 50 €. Tickets available online at www.cineluz.fr or during the festival (box office opens 45 minutes before each session).
Further information: https://www.fifsaintjeandeluz.com/
Book your stay: Hotels fully booked? From our campsite near Saint Jean de Luz, you can reach the seaside resort in 30 minutes from Espelette. Choose from a wide range of fully-equipped chalets and mobile homes.